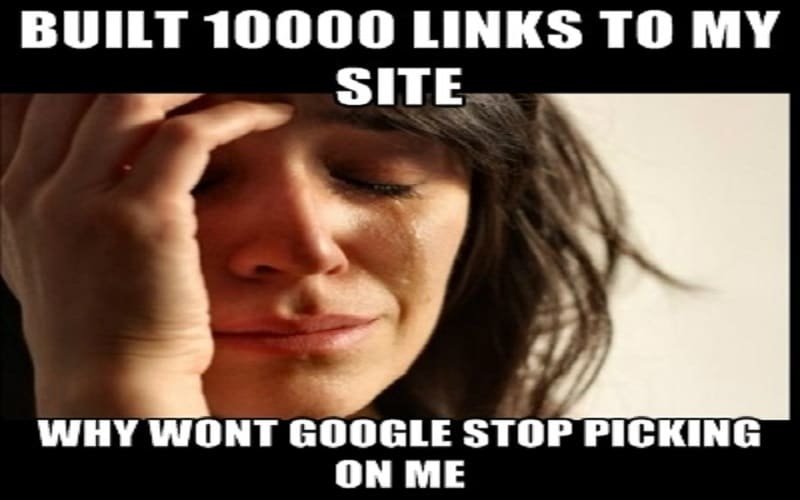 Affordable Quality SEO vs Cheap Crap SEO
Marketing your website is a necessity in today's world. Digital Marketing can in fact make or break a business. You may have no website and no Digital Marketing and be doing OK until your competition invests in Digital Marketing and overnight you start to lose business while their business increases dramatically. SEO is the cornerstone of Digital Marketing. We all would like to get our website to page one for key word phrases that relate to the service we provide/sell but not all SEO Providers are the same. Some are good some are bad, some are expensive some are affordable. We all want to make our money go further, it is possible to get quality affordable SEO and what are the signs to look for that indicate an SEO Provider is producing poor SEO that may in fact harm the websites ranking in the long term. Lets find out.
Things to Watch Out For
Advertising Number of Backlinks Added per month
So many SEO companies still do this and it is plan wrong. They have in their promotion offers like $200 per month 200 backlinks per month $300 per month 400 backlinks per month. These backlinks are low quality and unnatural. Google will penalize your site and initially you will gain a quick boost in SEO and then get de-ranked completely and your site may never recover. Any SEO company today charging money for adding backlinks is crap. Stay away. In Bali there are many SEO companies doing this. They have no idea what they are doing. This practice should have stopped in 2012.
Advertising edu links.
Edu links are education website, Google regarded these websites are premium quality links. Alot of poor quality SEO companies advertise that not only will they add hundreds of backlinks to your site but also sell the idea that they are high quality Edu links. Google will take one look at these links and see they are completely unnatural. Say your business is in Bali, all these Edu links have been added to you site and these backlinks are all in Russia from very low quality Edu sites that have nothing to do with your business. Google will come down hard on this.
Scrapping Content From Other Sites.
Sadly this happens even when the site is still being developed. People perhaps the web designer or SEO Provider wanting to increase content on a Client's site does not know what to write about and just copies and pasts information from another site. Totally wrong, Google will crawl the site identify the content has been plagiarized and come down very hard.
Ranking Too Soon
Yes this is bad, lets examine why. With a new site Google allows for what is termed a honey money period. A window of about two months where Google relaxes their algorithm. If you at this stage start adding crappy low quality links it will in fact boost your site's rankings considerably. Poor quality SEO companies know this is will often sell the fact that they can get your site ranked in a few weeks. Watch out for this. After two months when the honeymoon period is over Google will examine the quality of the links and see they are unnatural and of low quality. Expect an massive penalty.
So What should we look for in a Quality SEO Business
A Strategic Plan
At the start of the project they should look under the hood and audit your site. They should define clear google and objectives that is timed, measurable and clearly shows the steps taken to reach these goals. That is exactly what we do. We clearly highlight what we are doing in month 1, 2. 3 and 4. There are no surprises.
Focus Should be on quality work, not trying to beat/trick Google.
Previously there was a game being played between Google and Poor SEO Companies. They would try to cheat and outsmart Google. Well it was just a matter of time before Google's algorithm became a lot more smart. The days of beating Google are over. Just focus on doing lots of quality work which incorporates sound on page SEO and content creation.
Content Focused.
The internet is flooded with lots websites so many of these sites are not live trading businesses. Google wants businesses that are live and trading to rank well on their search engine. They look for websites that create quality content. When you update your blog or site with new information it's a message to Google saying we exist, we are real and we are continually creating new information for our customers. Some sites create an article once a month as they are already on page one and are in a low competition industry and just want to maintain their rankings. Others create an article once a week, sites trying to get ranked in very competitive areas create articles once a day then share it on social media so thousands of their followers can view read and click on the article taking then back to their website. Good SEO today focuses heavily on content creation and sharing.
Author: Rod Sinclair
Digital Marketing Expert